Db-Line

Catalogo On-line
Videogames

Resident Evil VII - Biohazard Gold Ed.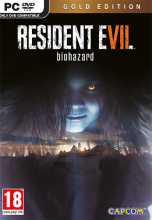 Dettagli
Gioco: in Italiano; Scatola & Manuale: in Italiano

Prezzo: € 39,99*
Descrizione
Resident Evil 7 Biohazard Gold Edition è la versione arricchita di tutti i contenuti scaricabili pubblicati nel corso del 2017 (Banned Footage Vol. 1 e Banned Footage Vol. 2), l'inedito DLC "End of Zoe" e l'attesissimo DLC "Not a Hero" che vede il ritorno di uno dei personaggi più famosi e amati dai fan della saga: il soldato veterano della BSAA Chris Redfield.
Resident Evil 7 Biohazard è uno dei giochi più spaventosi e apprezzati del 2017: il giocatore risvegliatosi nei panni di Ethan Winters, dovrà esplorare villa Baker – un cottage fatiscente apparentemente abbandonato, all'interno di un'inquietante piantagione – per scoprire la veritàsulla scomparsa di sua moglie.
End of Zoe: capitolo scioccante della saga Resident Evil 7 Biohazard dove i giocatori scopriranno cosa è successo a Zoe. I giocatori dovranno affrontare nuovi nemici e esplorare nuove aree pienedi paludi.

Not A Hero: Dopo gli orribili eventi che hanno avuto come protagonista Ethan Winters , il giocatore vivrà una nuova esperienza dove Chris dovrà affrontare nuove minacce non incontrate nel gioco principale. Come membro della New Umbrella, Chris e il team hanno studiato una strategia per affrontare quest'ultima minaccia. Riuscirà Chris ancora una volta a risolvere il mistero di quest'ultimo focolaio uscendo vivo dai labirinti della piantagione?

Scopri tutte le novità all'interno del nostro shop!!!
Iscriviti subito all'area riservata.
*Prezzi al pubblico Iva inclusa